On its 6th anniversary on Feb 4, Facebook bonded with Orkut to provide a new feature without any privacy settings. Founder Mark Zuckerberg said on the sixth anniversary that rival Orkut had created a landmark in "public" social networking by making everyone's photos and other details publicly available in its initial days. "They had no idea of things called privacy settings; which they copied from us. We are signing a deal with them now for Openbook. Lives of all Openbook users would be open to all, and that too in a very mean, yet interesting way." Zuckerberg said this while addressing an audience of two people in an empty auditorium, (he claimed, however, that people were listening to him via an online Facebook channel).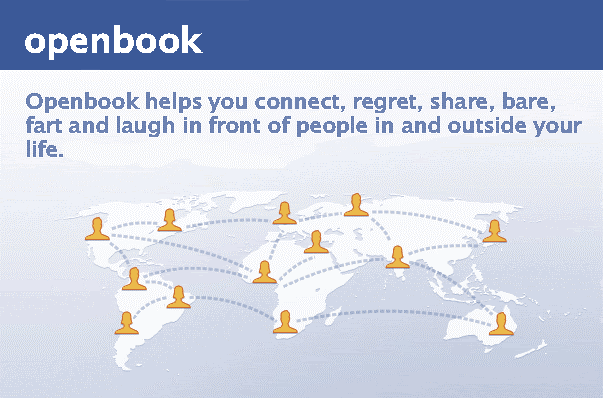 On Openbook, everyone will be able to view photos, videos, status messages of any other user, and even post comments. We hacked Zuckerberg's laptop and found how Openbook will look like. Relationship statuses will have detailed options like 
"currently with my ex-wife", 

"in love with my sister", 

"daily one-night-stands", 

"hanging out with a gang of girls",

"revolving in a love circle",

"It's terribly complicated",

"In a relationship with a Rakhi Sawant-like person"

"Currently participating in a telly Swayamvar".
The gender options will be like these.
The Profile will have mandatory fields for bank account details, ATM pins, passwords of emails. The popular Wall feature of Facebook will be replaced by "The Broken Wall" with the tagline "See What Lies Beneath".
Other amusing stuff include sexual compatibility and capability details ("impotent", "weak orgasms", etc.). Every user must have actual pic as display pic. 
Existing Facebook users will have the option of switching to Openbook for better connectivity with friends.